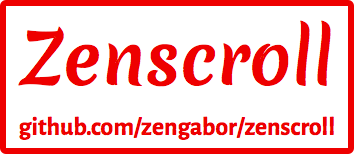 One JavaScript to Smooth-Scroll Them All
Smooth animated scrolling. Move elements into view, or scroll to any vertical position.
1.4 kilobyte of vanilla JavaScript. No dependencies.
About
Zenscroll is a vanilla JavaScript library that enables animated vertical scrolling to an element or position within your document or within a scrollable element (DIV, etc.). It can also automatically smooth all scrolling within the same page.
Features:
Smooth animated vertical scrolling.
Automatic smooth-scrolling on links within the same page, including back and forward navigation (Chrome, Firefox, Opera, Safari Technology Preview).
Scroll to the top of a specific element.
Scrolling an element into view, making sure both top & bottom are visible, if possible.
Scroll to an element and center it on the screen.
Specify the spacing between the element and the edge of the screen (e.g., for fixed navigation bars and footers).
Customize the duration of the individual scroll operations.
Callback when the scrolling is done.
Can use new browser's built-in smooth-behavior if it's enabled.
Just 1.4 kilobyte minimized & gzipped.
No dependencies.
Full support tested and works under:
Android Browser 2.2+
Chrome for Android
Chrome 14+ (probably earlier too)
Edge
Firefox 9+
Internet Explorer 9+
iOS Safari 4+
Opera 10.6+ (probably earlier too)
Safari 4+
Windows Phone 8.1
Yandex 14.12
Limited support (programmatic animated scroll in document) tested and works under:
Firefox 3+
Internet Explorer 6+
iOS Safari 3+
Getting Started
Installing Zenscroll
Download Zenscroll and include it into your page. A good place is at the very bottom, just before the closing